NEXT BAKES
SAT 9 Dec – Saughall Farmers' Market at The Vernon Institute, Church Road, Saughall CH1 6EN 9am – 12 noon and collections from my home in CH2 3pm – 5pm
SUN 17 Dec – Abbey Leys Community Market, High Legh Village Hall WA16 6LR 10am – 2pm
FRI 22 Dec – Collections from my home from my home in CH2 3pm – 7pm
SAT 13 Jan 2024- Saughall Farmers' Market at The Vernon Institute, Church Road, Saughall CH1 6EN 9am – 12 noon and collections from my home in CH2 3pm – 6pm
SAT 20 Jan 2024- Taste Cheshire Local Producers' Market on Chester Town Hall Square – approx 10am – 4pm
________________________________________________________________
The items listed below can be ordered for collection from my home between 3pm and 5 pm on Sat 9 December.  Please note that collections from my home finish at 5pm this week (rather than the usual 6pm). Try to order  by Thursday evening if possible but I will accept later orders if I can.
I can't usually accept orders for collection at markets as I'm always in a rush after baking through the night.
All the flours I use are certified organic.
Bread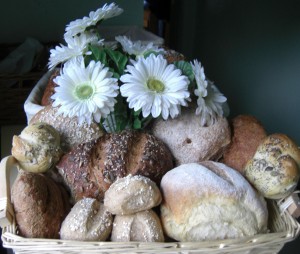 (Suitable for vegetarians and vegans unless shown otherwise)
400g traditional white loaf – £2.50
800g traditional white loaf – £3.80
600g avg milk loaf ( suitable for vegetarians but not vegans) – £3.50
400g rosemary bread – £3.00
400g miracle bread – £3.00
Miracle baps – £3.00 for 4
570g stoneground wholegrain rye sourdough tin with figs and fennel seeds – £3.60
Cakes etc.
(V = Veggie.  VN= Vegan)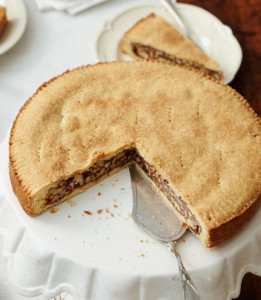 Wow your guests with my walnut pie (above) and / or my Christmas Cake (below)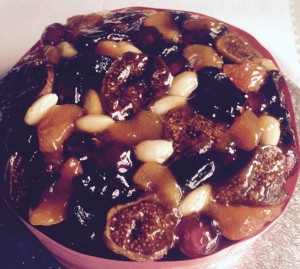 Walnut pie (V) – £3.20 per 1/8 pie – enough for 2 portions.  Whole pie costs £24.00. Keeps for at least 1 month in your fridge.
Christmas Cake (V) – £16.50 per kilo by finished weight. Cake is nut-free. Choose a plain cake or one topped with your choice of fruit and nuts.   I can't accept any more orders for the little cakes I make in baked bean tins and with which many long-standing customers will be familiar.  Remaining cakes are all circular and mostly about 7″ diameter, weighing slightly below or slightly above 1kg.  An un-topped cake can be kept in an airtight box in a cool place for several years and will improve with age, especially if given an occasional tipple of brandy or similar.   I advise you to keep a topped cake in an airtight box in the fridge, where it will last for at least a month.
Harry's Cake (V) – £16.00 per kg. For lovers of nuts and stem ginger chunks.  An alternative to a traditional Christmas Cake. Whole cakes cost between £7.50 and £10.00.  Half cakes also available.  Keeps for at least 1 month in your fridge.
Apricot energy bars (V) – £2.70 per pack of 2 bars.  Will keep for at last 1 month in your fridge.
Proper teacakes (V & VN) – £4.50 per bag of 4.
Giant Chelsea Bun (V & VN) - £2.80
Giant Apple & Cinnamon Bun  (V & VN) - £2.80
Savouries
Savoury brioche tart (V) with sharp cheddar, tomatoes, onions, spinach and basil (V) – £3.60 per 1/4 tart; £7.00 per 1/2 tart; £13.00 per whole tart.
Chestnut and cashew nut roast with mushrooms and cranberries (V) – £6 for one roast avg 370g (serves 2+)  0r £11 for two roasts.
Parsnip and cashew nut roast (V) – £7.50  for one roast avg 520g (serves 3+)  0r £14 for two roasts.
Sage and onion sausage roll with award-winning Pen-y-Lan free-range pork – £3.00
ALLERGENS AND OTHER INFO about any of my products – please just give me a ring or drop me a line.
To order  please contact me as soon as possible by e-mail to jane.artisanbread@gmail.com or ring me on 01244 300761. (Please don't order via Facebook.)  Payment can be made in person with cash, cheque to Jane Tomlin or by card.