Collect from my home in CH2 between 1500 and 1900 TUESDAY 21 DECEMBER or request a local delivery. If you haven't been here before I'll supply directions when I confirm your order.  Any offers to volunteer to help with deliveries will be appreciated.
1st bake in 2022 will be Sat 8 January for collections from my home.
For Tuesday 21 Dec I'm planning to make the following (all with certified organic flour):
BREAD WITH BAKERS' YEAST
400g Traditional White – £2.50
800g Traditional White (boule) – £3.80
400g Miracle Bread – £3.00
Miracle baps (in bags of four) – £3.00
REAL SOURDOUGH (naturally leavened without bakers' yeast) 'HEAVIES'
570g  Stoneground 'Borodinsky' Wholegrain Rye Sourdough tin loaf with coriander seeds – £3.40 (perfectly partners smoked salmon or gravadlax)
800g Wholegrain Wheat and Rye tin – £3.40
OTHER YEASTED PRODUCTS
All-butter croissants (plain) – £1.20 each
'Butterful Brioche'  - mini-loaf (avg 220g) – £2.50
Brioche tarts – see savoury items below
CAKES etc
Order your cake(s) any time from now for collection (or delivery) shortly before Christmas. Small cakes made in baked bean tins cost £4.50. They're decorated in the same way as the larger cake in the photo and they are supplied in a paper bag – not a baked bean tin!  Add £1 if you want your cake gift-wrapped in cellophane.  Larger cakes are sold by weight and cost £15 per kg. You can order a cake topped with your choice of fruit and nuts or a plain cake to decorate yourself. There are no nuts in the cake itself but this is not a nut-free kitchen. Just let me know if you need to see all ingredients before ordering. For larger cakes please bring your own cake tin or I can supply a cardboard gift box for £1.
£16.00 per kg. Whole cakes cost between £7.50 and £9.00.  Half-cakes are also available.  A great alternative to a traditional Christmas cake but very popular all year round.
Wow your guests with my walnut pie
A whole pie (10 – 12 inch diameter*) costs £24.00 or you can choose any number of slices for £3.00 each. 1 slice is 1/8 of a pie and is easily enough for two portions.  If you order more than one slice I will supply them in one piece so that you can choose yourself where to cut. Whole pies or slices will keep for at least a month in your fridge and can be frozen for up to 6 months.  *10″ diameter pies are slightly deeper than 12″ dia.  Both sizes weigh the same.  Sorry but it isn't possible to choose which diameter unless you are ordering a whole pie.
SAVOURIES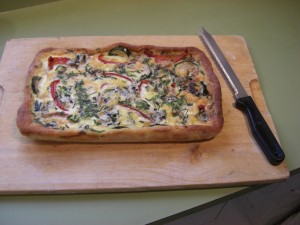 Savoury Brioche Tart.  Whole rectangular tart – £13 (approx 30 x 20 x 2.5 cm).  Half rectangular tart £7. Quarter rectangular tart £3.60.  One quarter is sufficient for two portions. Choose tomatoes and basil, broccoli and stilton or smoked salmon and dill.  Please note – smoked salmon and dill is only available as a whole tart and there is a £2 supplement.  Will keep in your fridge until 26 December  and can be frozen for up to 6 months.
Veggie parsnip and cashew nut roast. £6 each or £11 for 2.   Veggie parsnip and cashew nut roast – cooked and ready to eat cold or to re-heat – each roast serves 2 main portions.  Will keep in your fridge until 26 December  evening or can be frozen for up to 6 months.  If preferred I can supply your roast uncooked and frozen ready for you to defrost and bake for 45 mins.
Vegan and gluten-free hazelnut and mushroom roast. Details as above.
ALLERGENS AND OTHER INFO about any of my products – please just give me a ring or drop me a line.
To order  please contact me as soon as possible by e-mail to jane.artisanbread@gmail.com or ring me on 01244 300761. (Please don't order via Facebook.)